Article Category >>>

Politics





Nigeria At 59: A Country Struggling To Grow In Retrogression


By

Abiola Benjamin Obayomi

Oct 01, 2019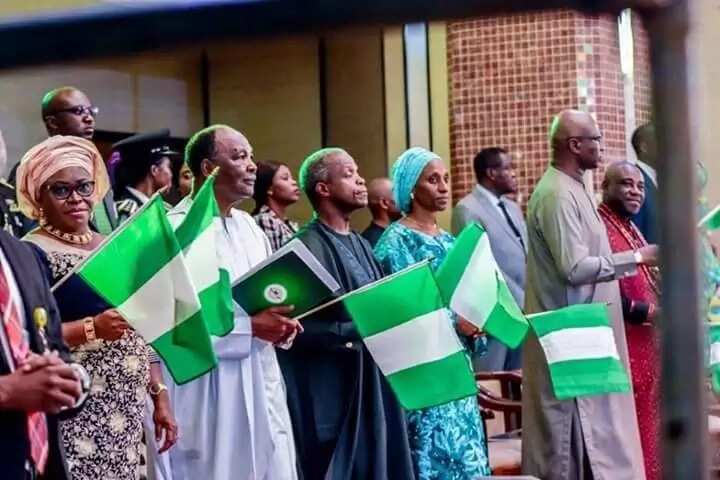 In 2019, is Nigeria moving forward or backward? This is the question I ask myself each time I have the time to analyze what is going on in Nigeria. Recent events, and where we are presently as a nation, does not show so much that we are on the path of growth. The way and manner our leaders go about managing this nation's destiny does not give many Nigerians any opportunity to hope for a better future. Many simply stay there, praying and hoping that one day, something miraculous might just happen that would better their lots in a country that seems not to care or bother about the plights of its people.
Those who can't stay and who have the means to relocate are moving out to other nations of the world in droves. Whether illegally or legally, many Nigerians just want to leave Nigeria for good. Most won't even mind settling in countries that do not have as much potentials as their own beloved country possesses, still, they just want to leave Nigeria.
Sometimes, it appears Nigeria is consistently growing backward. This can be seen in issues and all the mundane things that the country is struggling to overcome. For example, Nigeria in 2019 is still struggling to put basic but essential infrastructure in place. Dilapidated roads, quality education, good healthcare system, fixing the economy, fighting insecurity and securing lives and properties are like rocket science to us. What Nigeria is struggling to achieve, some supposed third world countries are getting it and they are moving on from those challenges. Rwanda in Africa used to be a devastated country with an history of genocide that claims hundreds of thousands of souls. But the same Rwanda today is fast becoming the darling of the African continent.
Ghana is one of Nigeria's closest neighbors and one of Africa's fastest growing economies. Although, Nigeria and South Africa has been ranked as the big two in Africa, but it appears that these two continent's strongest seems to be living on a lie and on some past glory. The situation in these countries (Nigeria and South Africa) does not give so much to be envied by other nations. Some weeks ago, Xenophobic attacks on many businesses owned by foreigners in South Africa showed nothing but the real truth about the state of South Africa. Inequality, corruption have marred the progress of these two, and it tells as their citizens resort to violence and all manner of negative vices to stay afloat.
Nigerian politicians are not sincere, and no thanks to those who put them in their various political offices. The country, as it is today, is being led by rogue politicians, "corrupt-full", who lacks empathy and have failed in their responsibilities to transform Nigeria into what everyone can be proud of. Rather than invest in education, they would rather sponsor pilgrims to some holy lands with little or no economic returns. They don't cherish human capital development, and their little interest in infrastructural development can be seen when they celebrate one parched road or the other within their state.
Nigeria is not moving forward, and there is no need to pretend that it is. For example, there are certain indices that characterizes a country that is moving forward. One, the leaders of such countries at every level maintains law and order, don't joke with its citizenry fundamental human rights and they hold in high esteem the rule of law. The blatant disregard for the rule of law in Nigeria as evidenced in not complying with the decisions of the court over certain matters does not depict Nigeria as a growing nation. This administration's show of force and brutal clampdown on its critics is nothing short of repression and attempts to silent dissident voices.
Secondly, countries that moves forward don't joke with inclusiveness. They don't marginalize certain parts of their nation and concentrate on other parts. It is unfortunate to still witness the level of divisiveness that is in Nigeria today. Despite all the mechanisms that are in place to ensure that Nigeria is one; all we see is lack of oneness and marginalization. But the lack of cooperation in the Nigerian political space would not give room for inclusiveness. Politicians have divided Nigeria along tribal lines, based on resource control, religion, et cetera. I don't really know if all the various tribes and ethnic groups can ever unite, one can only hope so. The hatred for one another is deep-seated, and you can see how it even plays out in the polity.
Thirdly, countries that moves forward don't joke with their institutions. Nigeria at 59, can we really point out to any institution in Nigeria presently that is functioning optimally? Do we have a non-partisan judicial officers? Do we have an independent police? There is a reason why the institutions are nothing to write home about. It is because once they become functional, those who have held Nigeria to ransom would no longer have a filled day. So, institutions such as INEC wouldn't be totally independent so that politicians can manipulate their processes for their own gains during elections. EFCC wouldn't be able to operate optimally so that the politicians can manipulate its chairman for his or her own gains. The Police wouldn't be adequately funded so that politicians can use them to run their own dirty errands.
So, Nigeria is clocking 59, but still struggling with teething problems. Issues that should have long been forgotten, we are having challenges overcoming them, because when adult refused to grow, such adults behave like toddlers. Nigeria is increasing in years, but it is not commensurate with her achievements. No thanks to those who have led the country from its inception till now. They all are part of why we have remained this way. If we are going to ever make the needed progress, there must rise in us a new way of thinking and doing things. Going forward must be birthed from new ideas, and new thinking, and not from the usual old ways that has not taken us anywhere.
I rest my case!
| | | |
| --- | --- | --- |
| | 303 | |
If you need to re-publish this ARTICLE, please cite this article -

(https://cordly.ng/blog/nigeria-at--a-country-struggling-to-grow-in-retrogression-25103/)

and the Writer (Abiola Benjamin Obayomi)
Do You Find This Article Helpful?
Article Tags:
Nigeria, Retrogression, Grow, Ghana, Rwanda, South africa, Independence Day
Article Source
About Abiola Benjamin Obayomi
Real Estate is my Profession. The change we need in Nigeria begins with all of us doing things differently. Collectively, we can make Nigeria work.

Social Sharing
If You Enjoyed This Article; Then, Share It On Your Social Network





Copy This Short Link To The Article: https://cordly.ng/i/B70GX
Post Comment
Article Comments
No comment found! Be the first to share your thoughts on this article!
Related Articles