Article Category >>>

Self Improvement





Knowledge-Driven Results: What Life Experiences Have You Had Because of Your Own Knowledge


By

Gboyega Adedeji

Sep 30, 2019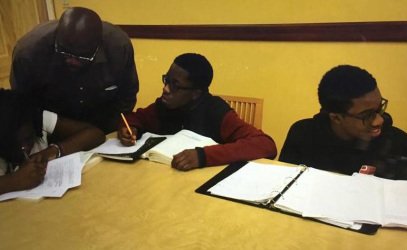 In the book of John 8:32, Jesus emphasized the necessity of knowledge in the liberation of any person, irrespective of religious inclination, academic attainment or race. He said, "And you shall KNOW the truth, and the truth shall MAKE you free". From that Scripture, one could conclude that correct KNOWLEDGE truly MAKES a person a better man or woman. If anyone of us therefore claims to KNOW anything, we would expect such a person to SUBSTANTIATE his or her KNOWLEDGE by his or her WORKS or RESULTS.
When a person KNOWS, there is usually a sharp departure from when a person doesn't know. Check out an account in the Bible of the "cruciality" of KNOWLEDGE for effective living:
The LABOUR of fools wearies them, For they do not even KNOW how to go to the city!

Ecclesiastes 10:15
Just as we have noted, there is an expected link between WORK (RESULTS) and KNOWLEDGE. In the Scripture we just read, the fools labour, just like everyone else; however, because of the ignorance (of the requisite information or skill); they had a wearied RESULT. Obviously, if anyone wants to change his or her outcome; such a person must review for the purpose of changing his or her knowledge.
In the word of Jesus that we read in John 8:32, FREEDOM, which an outcome of living is not premised on mere KNOWLEDGE; but on the KNOWLEDGE of the TRUTH. Truth and falsehood are two sides of any coin; either of the two require effort and some sort of accumulation and a sense of "I Know"; yet, it is only the truth that sets free.
Something happened in the book of Luke 8:40-56 that gives a full picture of the experience of true knowledge and the experience of false knowledge.
Luke 8:49-55 New King James Version (NKJV)

49 While He was still speaking, someone came from the ruler of the synagogue's house, saying to him, "Your daughter is dead. Do not trouble the [a]Teacher."

50 But when Jesus heard it, He answered him, saying, "Do not be afraid;only believe, and she will be made well." 51 When He came into the house, He permitted no one to go [b]in except [c]Peter, James, and John, and the father and mother of the girl. 52 Now all wept and mourned for her; but He said, "Do not weep; she is not dead, but sleeping." 53 And they ridiculed Him, knowing that she was dead.

54 But He [d]put them all outside, took her by the hand and called, saying, "Little girl, arise." 55 Then her spirit returned, and she arose immediately. And He commanded that she be given something to eat.
Let me emphasize on verse 52 for better visibility:
52 Now all wept and mourned for her; but He said, "Do not weep; she is not dead, but sleeping." 53 And they ridiculed Him, knowing that she was dead.
The state of those people at that moment was a sorrowful state, in fact, they were so much in pain that they were crying heavily for the death of the young girl. They question is, "Why were they crying?" The obvious reason is simply that they knew the girl was dead. Since they KNEW she was dead, they then began to CRY. So you can see the KNOWLEDGE and RESULT relationship again.
When Jesus got to them and saw them crying, He said, "Do not weep; she is not dead, but sleeping". The question again is, "Why did Jesus stop them from crying?" He stopped them from crying simply because He had a different KNOWLEDGE. The old KNOWLEDGE in the room was, "The girl was dead"; but when Jesus came, He brought a new KNOWLEDGE, "The girl was sleeping". Since Jesus knew the girl was sleeping, He didn't bother to cry over the girl; He simply CALLED the girl out of sleep the same way we wake our family members up daily.
Indeed, the just shall live by faith; as you've come to know and believe, you will produce an outcome in life. Your life will always tend to the direction of your knowledge. If what you CLAIM to know is falsehood; your life will equally follow a false pattern or trajectory. If you must change your life, you must change what you know. Remember, thieves, harlots, corrupt politicians or any other social killers are not people with different heads, mouths or legs; they simply have a different knowledge. By their knowledge, they have become who they are presently. And even you, WHO YOU ARE PRESENTLY is a product of your KNOWLEDGE. If you have issues with the results your life has produced overtime; then, you must change your knowledge. Find the truth and know it - enough of vain living, wasteful living. Do you know everybody isn't have difficulty with the same things you're struggling with today; the difference isn't much of accident of chance; but your knowledge.
Seek for the truth, know it and pattern your life after the truth. I believe the truth is Jesus Christ! He even said in John 14:6, "I am the Way, the Truth and the Life. No one comes to the Father except through Me." A word they say is enough for the wise - since you are a wise person; I bet you will make the right choice today! It is never too late to change your life experiences; just change your reading diet, change your watching diet and make Jesus the foundation (beginning) and the finisher (ending) of your knowledge. He will Make you a better person in a short while - give Him a chance today! Thanks for the gift of your precious time; I do hope you have received an encouragement, a challenge or an inspiration to move ahead towards the right direction. I do pray that God will help you today for that enviable destiny of tomorrow in Jesus name.
| | | |
| --- | --- | --- |
| | 867 | |
If you need to re-publish this ARTICLE, please cite this article -

(https://cordly.ng/blog/knowledgedriven-results-what-life-experiences-have-you-had-because-of-your-own-knowledge-25100/)

and the Writer (Gboyega Adedeji)
Do You Find This Article Helpful?
Article Tags:
Knowledge, Driven, Results, Life, Experiences, Knowledge-Driven, Proven Results, Outcome
Article Source
About Gboyega Adedeji
Mentored By Jesus Christ | Writer | Inspiring Speaker | Publisher | Coach | Builder | FOUNDER @ Fridayposts, Hubpile, Witicles| President/CEO at Centre for New Dimension Leadership | Entrepreneur | Husband & Father. Engaging me will change you!
I am a Nigerian and an Ambassador of Christ sent to Nigeria for the cause of His Kingdom. By divine-making, I read, teach and speak. I am a Dad to my children and a husband to my lovely wife Omolara. Simply, I am a Writer, Teacher, Coach, Leadership Developer, Conference Speaker and Publisher among others. I am a Creative Managing Partner at kpInspirationals, a media outfit based in Abuja. For more about me, Visit my profile page on Webnigerians, Twitter, Facebook and LinkedIn
Social Sharing
If You Enjoyed This Article; Then, Share It On Your Social Network





Copy This Short Link To The Article: https://cordly.ng/i/yjefL
Post Comment
Article Comments
No comment found! Be the first to share your thoughts on this article!
Related Articles